HI TecMetal Group Inc. Wickliffe, OH Division Awarded 12-Month ISO 9001:2015
HTG's Wickliffe Division Thermal Treatment Center was re-certified for ISO 9001: 2015 earning 12-month merit. The audit was supported by Thermal Treatment Center's team in addition to Quality team members. The accreditation enables the plant to provide continuous improvement and attention to quality processes that result in exceptional heat treating services for their customers.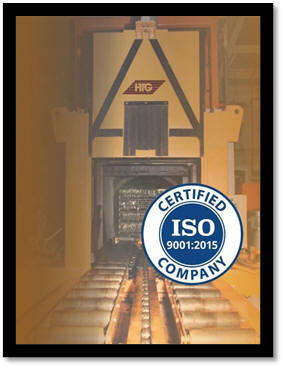 Customers sourcing metal heat treatment depend on Thermal Treatment Center's 80,000 square-foot facility to provide the level of controls and quality performance that is better assured with an ISO 9001 conforming quality system. Thermal Treatment Center a division of Hi TecMetal Group, a leading commercial heat treating service based in Northeast Ohio performs a variety of heat treatment services including carburizing up to 72" long, age-hardening aluminum, carbonitriding, stress relieving, grit bead blasting, straightening, carbon restoration, neutral hardening, normalizing, ferritic nitrocarburizing, atmosphere hardening up to 72" long, atmosphere annealing, tumble de-burring, age hardening, induction hardening and expedited service when requested.
Hi TecMetal Groups' success in re-certification of ISO 9001:2015 is a testament to the commitment and engagement of the whole team at Thermal Treatment Center. It shows a positive desire to embrace the requirements of the standards, and is an essential component of our growth and commitment to customer focus. With turnaround times that put Thermal Treatment Center among the fastest in the industry we consistently meet & exceeds customer expectations. Please contact our experts today for all your Brazing, Heat Treating, and Welding needs at 216.426.6850 or email quoteteam@htg.cc for all you needs.